6483 Rockfish River Road, Schuyler, VA 22969 • 1 434 831-2017
Enjoy your stay ... the Walton way!
---
John & Olivia's Bed & Breakfast steps you back into a simpler time just like the Walton family lived during the 1930's. Gather around the radio for some old time family entertainment. Modern amenities like WIFI and televisions with DirecTV are tucked away in four of the bedrooms when you just need at bit more of the modern world. No visit to Schuyler, VA or the Blue Ridge Mountains would be complete without staying at the home similar to the one that made Earl Hamner's memories of growing up in Virginia famous around the world. Get a taste of the old time family values that makes fans of the popular TV show flock to Virginia in the thousands to see for themselves.  Now you can experience life just like 'America's favorite family' by staying in a Walton inspired, depression era Virginia home.
---
Choose between 5 different bedrooms
Prices range from $100-$175/night depending on season and choice of room.  Well-behaved children 10 and older are welcome. Please be aware that damages to rooms or common areas will be charged to a credit card on file.
---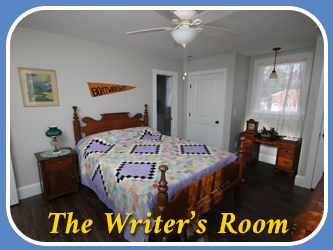 The Writer's Room
This Depression-era room features a Queen bed with private bath plus DirecTV.  Period antiques highlight the 290 sq.ft. room with a writer's desk. This room features a dormer window, with the "Light in the Window", a nod to Earl Hamner, Jr, giving guests a sunrise view of Schuyler.
The Parents' Room
This 290 sq.ft. room with private bath is beautifully furnished with lace curtains and period antiques as well as DirecTV.  The room features a Queen antique spindle bed. Featuring a dormer window, guests enjoy a sunrise view of Schuyler.
The Grandparents' Room
This fully accessible 342 sq.ft. room also features a landing with steps down into the bedroom. The ground floor bathroom features a large step-in shower. The highlight of this room is a Queen Bed and a beautiful 48" x 36" stained glass window with a sunrise view of the Walton Hamner House. In addition to DirecTV this room offers an extra twin bed in a small room off the bathroom for an extra member in your party.
The Boys' Room
This 200 sq.ft. room with private bath features a full and twin bed with period antiques, model airplanes and a vintage radio.  There is DirecTV plus the window gives guests a beautiful sunset mountain view.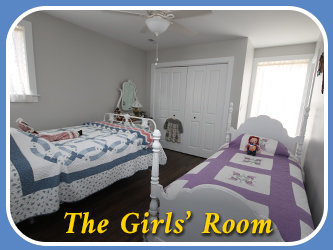 The Girls' Room
This 200 sq.ft. daintily-decorated room with private bath features a double and single bed, delicate quilts, dolls and lace curtains.  2 windows give guests beautiful sunset mountain views.
Need More Room? Book the Walton Hamner House
Stay at the Walton Hamner House where Doris and Earl Sr. raised their 8 children including Earl Hamner Jr. the prolific writer who created "The Waltons". A perfect choice for larger families, the parents room, with a Full bed, is located on the main floor and the two original children's rooms are located upstairs. The Hamner Boy's room offers two twin beds and the Hamner Girl's Room features two full beds.
---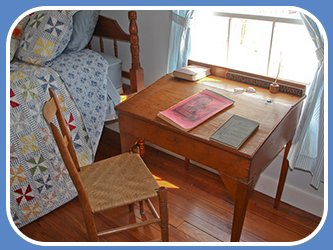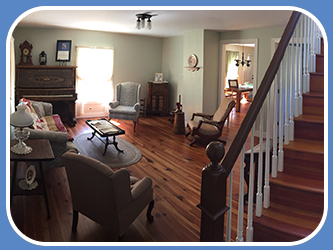 Terms & Conditions
Deposit
A deposit of one night's stay is required upon reservation, either online or by phone.
Checking-in Policy
Checking in time is 2 pm to 6 pm.
We ask you to please give us advance notice if your arrival plans change and you won't be arriving during your check-in period.
Checking Out Policy
Checking out time is by 10am.
If you are not leaving the area and you want to leave your bags in the room and we do not have another guest scheduled, you may leave the bags at a half-day room rate.
Cancellation Policy
Should you wish to cancel your reservation for any reason, we will refund your booking, less a $100 cancellation fee. If preferred we will hold onto your deposit and reschedule your booking to a future agreeable date at the original price.
Breakfast
A full breakfast is included with stay and will include beverage and hot entrée. Guests may request a bagged continental breakfast with 24 hr advanced notice. Coffee is available from 7am-8am for early risers. Full breakfast is served from 8am until 9am.
Guidelines Concerning Children
John and Olivia's BnB features many antiques and could pose a problem for small children, therefore we DO NOT allow children below the age of 10. You are responsible for any damaged items and your credit card on file will be charged.
Smoking Policy
John and Olivia's BnB is a smoke-free and vape-free facility. Violators will be charged a minimum $250 cleaning and purification fee for the comfort of our other guests.
Pet Policy
We love our furry friends, but not all of our guests feel the same, so the BnB has a no-pet policy.