6483 Rockfish River Road, Schuyler, VA 22969 • 1 434 831-2017
Now Open for Reservations!
John & Olivia's Bed & Breakfast steps you back into a simpler time just like the Walton family lived during the 1930's. Gather around the radio for some old time family entertainment. Modern amenities like television are tucked away in two of the bedrooms when you just need at bit more of the modern world. No visit to Schuyler, VA or the Blue Ridge Mountains would be complete without staying at the home similar to the one that made Earl Hamner's memories of growing up in Virginia famous around the world. Get a taste of the old time family values that makes fans of the popular TV show flock to Virginia in the thousands to see for themselves.  Now you can experience life just like 'America's favorite family' by staying in a Walton inspired, depression era Virginia home.
Enjoy your stay ... the Walton way!
Choose between 5 different bedrooms
Prices range from $100-$175/night depending on season and choice of room. 2 night stay minimum. Well-behaved children 10 and older are welcome. Please be aware that damages to rooms or common areas will be charged to a credit card on file.
---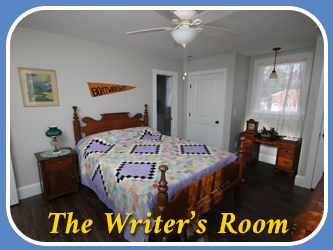 The Writer's Room
This Depression-era room features a Queen bed with private bath. Period antiques highlight the 290 sqft room with a writer's desk. This room features a dormer window, with the "Light in the Window", a nod to Earl Hamner, Jr, giving guests a sunrise view of Schuyler.
The Parents' Room
This 290 sqft room with private bath is beautifully furnished with lace curtains and period antiques.  The room features a Queen antique spindle bed. Featuring a dormer window, guests enjoy a sunrise view of Schuyler.
The Boys' Room
This 200 sqft room with private bath features two full size beds with period antiques, model airplanes and a vintage radio.  A lovely hand-stitched quilt cleverly hides a TV and windows give guests beautiful sunset mountain views.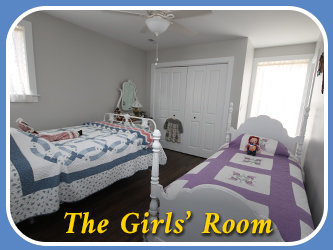 The Girls' Room
This 200 sqft daintily-decorated room with private bath features a double and single bed, delicate quilts, dolls and lace curtains.  A lovely hand-stitched quilt cleverly hides a TV and windows give guests beautiful sunset mountain views.
The Grandparents' Room
This fully accessible 342 sqft room also features a landing with steps down into the bedroom. The ground floor bathroom features a large step-in shower. The highlight of this room is a Queen Bed and a beautiful 48"x36" stained glass window with a sunrise view of the Walton Hamner House.
Terms & Conditions
Deposit
A deposit of one night's stay is required upon reservation, either online or by phone.
Minimum Stay Requirements
There is a two-night minimum stay for all guests at John & Olivia's Bed & Breakfast.
Checking-in Policy
Checking in time is 4 pm to 6 pm.
We ask you to please give us advance notice if your arrival plans change and you won't be arriving during your check-in period.
Checking Out Policy
Checking out time is by 10am.
If you are not leaving the area and you want to leave your bags in the room and we do not have another guest scheduled, you may leave the bags at a half-day room rate.
Breakfast
A full breakfast is included with stay and will include beverage and hot entrée. Guests may request a bagged continental breakfast with 24 hr advanced notice. Danish, juice and coffee from 7am-8am for early risers. Full breakfast is served from 8am until 9am.
Guidelines Concerning Children
John and Olivia's BnB features many antiques and could pose a problem for small children, therefore we DO NOT allow children below the age of 10. You are responsible for any damaged items and your credit card on file will be charged.
Smoking and Pet Policies
John and Olivia's BnB is a smoke-free and vape-free facility.. We love our furry friends, but not all of our guests feel the same, so the BnB has a no-pet policy.